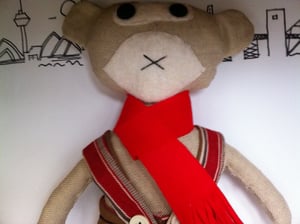 $

50.00
Who am i?
I am the first of many new monkeys to come. My name is Marlie. I like to read and to get a whole in one when I play snooker.
What do you do?
I am quite tall and lanky, I am sewn together with double stitching so I am very durable. You can hold my hand, or even my ear and take me along with you wherever you go.
What's so special about you?
We are Australian and custom made. You can even chose the colour of my overalls.
What are you made from?
I am made from beige burlap, wool felt, coloured linen, fabric covered split pins (for eyes) and I have faux leather gum boots.
How can I wash you?
I prefer to be kept dry please.
What's next? Adopt me online using pay pal and mention your choice overall colour.
If you adopt me, you will be the proud owner of an Australian handmade product.