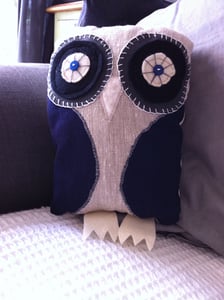 $

35.00
Who are we?
We are wise old owls who love to watch over your home.
What do you do?
We are sweet, and soft and can be carried under your arm. We like to sit in comfy places like on your couch of in your bedroom. We also are available as a doorstop. You can ask our owner to fill us with sand.
What's so special about you?
We are Australian and custom made. You can choose the colour of our bodies.
What are you made from?
We are made from quality cotton fabric, tightly woven linen and felt. Our faces and body are embroidered by hand. We have vintage buttons for eyes.
What are your measurements?
We measure 30cm high and 20cm wide. Because we are custom made, sometimes these measurements slightly alter.
How can I wash you?
Please keep us dry.
What's next?
When you put your order through, you receive one of us. Along with the order, please mention your choice of colour. You will not receive the exact owl in the photo. Please mention if you want one with the same fabric as in the examples.
If you adopt us, you will be the proud owner of an Australian handmade product.